Task reporting and task analytics are the final stages of task and project management process. CentriQS task reporting software lets users generate various statistical and analytical reports on tasks or projects for further printing and exporting to popular formats. With enterprise-class reporting and analytics tools you can create beautiful, compelling and sophisticated reports based on default or custom templates, as well as filter and view layout settings.
1. Task Reports
You can use report templates and report designer to create compelling and informative task reports. CentriQS reporting software offers default report templates that are already created by CentriQS team and there is a possibility to create your own custom report templates from scratch with help of Report Designer view. Once you have required number of templates you can generate a report on one task, several selected tasks or tasks that correspond to a certain filter condition. After task report is generated, you can print it out to have a hard copy or export it to one of the most popular file formats to have a soft copy which can be saved or sent by email.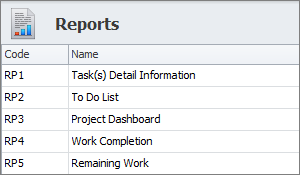 Learn how to generate task reports
2. Task Filters & View Layout
You can set task filters and view layout for displaying tasks which properties correspond to particular report requirements. To create a task report, you can apply such reporting tools as quick filter by column values or complex filter by conditions. Also you can hide and show columns to set the required view layout for filtered tasks. Once the task report fits your needs, you can save it as preset and then apply it whenever you need. Alternatively you can apply up to 10 last filters that you have recently set. Filters bar helps you turn the filter on and off easily. Folders panel lets you set a separate filter by folders if you organize tasks by departments, categories, etc.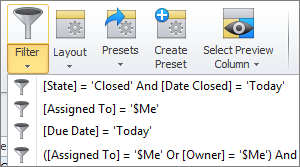 Learn how to set task filters and view layout
3. Task Printing & Exporting
You can print out or export task-related views to create hard or soft copies of task reports made with help of filters and layout settings. Such task-related views as Tasks, Scheduler, Time Logs, Tasks Analytics, and Task Analytics Chart can be printed out or exported to the most popular file formats such as PDF, XLS(X), HTML, RTF, Image, etc. If you need a quick and simple report you don't need to create a report template in CentriQS reporting system. You can set filter and view layout and then click the 'Print' or 'Export View' option. If you need to set and save a particular report document format with your company logo, title, date and time, you can click the 'Print Preview' option.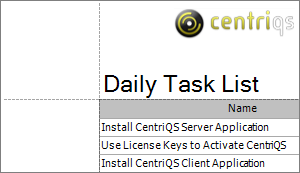 Learn how to print and export tasks to other formats
4. Task Analytics
You can use pivot table 'Task Analytics' for analyzing large amounts of data, making comparisons and discovering important trends. With CentriQS analytics software you will always know who your highest-performing employee is, what tasks are "at risk", when projects will be closed indeed. The Pivot table takes task properties that are stored as measures and dimensions in 'Task Analytics' OLAP cube to automatically sort, count, and total the information about your tasks and projects. So you can easily create intelligent summary tables to interpret data in different ways just by dragging and dropping table columns and rows to different positions.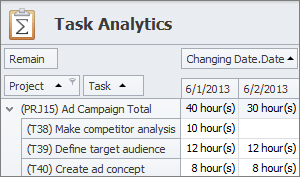 Learn how to use task pivot grid for task analytics
5. Task Analytics Charts
You can build analytical charts to visualize task analytics data for its better and quicker understanding. When working with large data sets you should show the relationship and comparison of data elements to clearly communicate meaning and importance of the information you present. The Chart view uses Task Analytics OLAP cube as data source for creating a graphical representation of required measures and dimensions. Chart layout helps you specify what will be shown in the chart and how, while chart wizard provides all available chart types, styles and methods of presenting task analytics data the best way.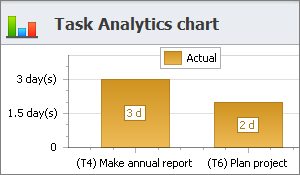 Learn how to build task analytics charts
6. Task Dashboard
You can create task dashboard for getting the "big picture" from multiple task-related views gathered in a single view. Task dashboard helps managers and team leaders measure their department and team performance, monitor project status, and perform other important things, while employees and team members can create personal task dashboards to track their progress, gather required information in one place, etc. Interactive dashboard view updates data on tasks and projects automatically to provide users with up-to-date information for better decision making, corrective actions taking, and problem solving.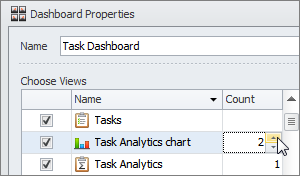 Learn how to create task dashboard