Tracking is a continuous process that lets decision makers closely follow progression of work to ensure that their projects are executed according to the plan and client requirements. With help of project tracking software you can monitor project activities and control changes to ensure project consistency with the business goals and performance expectations.
Goals of Project Tracking
As a project leader, you need to focus on multiple aspects of your project, including budget, schedule, performance, quality, communication, etc. Your major duty is to track changes that impact any aspect (and therefore cause a portion of risk) and to create an action plan that addresses the changes and removes or at least mitigates associated risks.
For example, by tracking the financial transactions within your project you control resource usage, avoid over-allocation and ensure budget justification. When you supervise teams and control collaborative effort you track changes in group performance and understand what factors cause faster teamwork development.
So, the goals of project tracking can be described as follows:
To gain insight into the current state of every activity
To explore factors that cause changes in each activity's state
To identify and leverage improvement opportunities
To resolve current issues and eliminate risks
Tracking in Multiple Views with CentriQS Software
Project tracking software lets you follow and complete these goals. For example, in CentriQS you can keep all of your projects, tasks, schedules, files, time logs, etc. in one centralized database. The software lets you organize your database into multiple views to make it easier for you to track job records and find necessary data.
In particular, tasks are kept in the Tasks view, projects are saved in the Projects view, files are stored in the Files view, reports are generated in the Project Analytics view, and so on. This way of organizing your database lets you quickly track the state of each activity, explore changes, analyze performance, and create a response plan.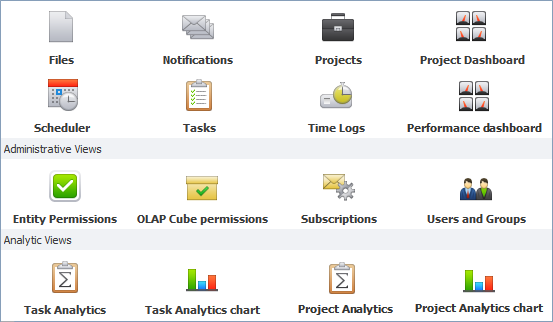 Key Considerations for Effective Progress Tracking
In order to succeed in managing your project, you need to understand how to track its progress and what items need to be monitored. Here are top 4 considerations to help you estimate job cost and measure work progress by means of project tracking software:
Tasks
Your project is composed of simple tasks and activities. You need to monitor durations of your project's tasks to reveal any gaps and deviations in performance; for example the tasks might be delayed or be ahead of schedule.
In CentriQS you can track task time by Estimate, Actual, Remain and Deviation fields. Estimate shows an expected amount of time required to complete a task. Actual represents actually spent time on the task. And Remain show time remaining to task completion. Deviation helps you compare these three properties to figure out whether or not the task is being done on schedule.

Changes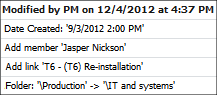 By definition, project is intended to make change. In your project you need to monitor and review any changes in order to explore current unsolved issues and take corrective actions immediately. CentriQS will help you keep track of all changes made to your project or its components. The History tab will show up project changes on chronological orders.
Feedback
Feedback makes it possible to collect valued information on team behaviors and work progress through a two-way communication channel. By establishing and using employee feedback you adjust current and future team behaviors in line with the project goals. The members of your project can use the Comment field to provide feedback, express their thoughts, briefly describe issues, and leave other text information important to the project manager or team leader.

Performance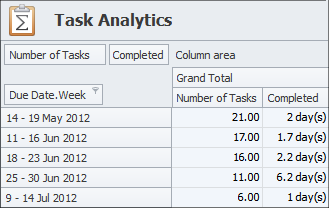 Performance helps you understand whether your project is executed according to the plan. By using various performance indicators you can keep track of the percentage of time and tasks to ensure desired performance and avoid job schedule overload. For example, you can measure task performance of your project by using the Task Analytics view in CentriQS software. This view lets you create a pivot table that shows number of in-progress tasks and also durations of completed tasks.
Project Tracking Dashboard in CentriQS Software
CentriQS lets create a project tracking dashboard to make it possible for you to monitor projects and related items in one screen. Your dashboard can be customized according to your needs. For example, if you want to monitor performance, tasks, and current projects available in your database, you can add the Project Analytics view, the Tasks view and the Projects view to your dashboard. If you want more items to be displayed on the dashboard, you can use Layouts to add and position new views.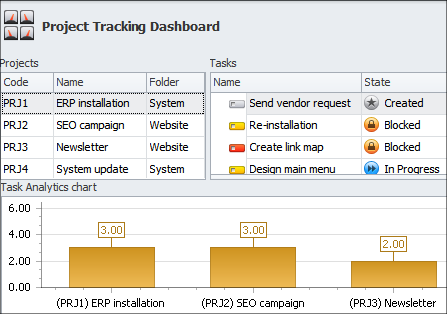 General Tab for Tracking Project Details
If you don't want to create dashboards for tracking your project but still want to get an informative and eye-catching view of the details, you can use the General tab. This default view provides general information on your project, including Name, Folder, Notifications, Burndown chart, and Task Progress graph. It is customizable so you can modify any of the components or add new ones. You can also switch to other tabs of your project, such as the following:
Members - include/exclude members in/from your project
Note - leave text messages and images with help of full-featured RTF editor
Files - upload and retain project documents, spreadsheets, and files
Scheduler - schedule project activities and keep track of user calendars
Time Logs - track time actually spent on your project
Tasks - plan and track project tasks
Links - add links to other entities within your database or to external files, web pages and emails
History - keep track of changes made to your project