Task creates the smallest measurable unit of work to make it easier for people to understand how they need to start their job. Task management software allows using this unit of work as the basis for scheduling, managing, communicating and analyzing activities and events. It enables you to create job schedules, collaborate with your colleagues, report on work results, analyze performance, and visualize task data.
Appointments Management and Task Scheduling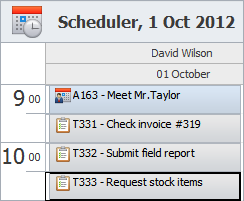 Task management software makes it easier to manage appointments and schedule activities. All of your GTD tasks, appointments, meetings, phone calls, and other events can be listed on a single schedule with possibility to drag and drop items. It enables you to schedule your activities in the daily, weekly or monthly view, focus on tasks that must be done today, and switch to the timeline view to get a big picture of your project plan with details on task durations and deadlines.
You can create event agendas and job calendars that can be shared among other users who have enough permission. This capability of CentriQS task management software enables you to type your meeting minutes directly in your calendar and keep track of attendees. Once a new item is added to user calendars your team will be notified of the change by email.
Teamwork and Task Collaboration
Teamwork makes it possible to involve two or more employees in working jointly towards a common goal or project. Task management software ensures effective task collaboration between group members by allowing sharing files, sending notifications, making comments, and seeing what everyone is working on at any time. Your teams are enabled to work well together, trying their best in collaborative working environments. They can use their individual skills to reach shared objectives and also provide constructive feedback, regardless of any personal conflict in between the individuals.
When you implement task management app in your working environment, you and other employees get the following advantages:
Share agenda items and todo lists among multiple users within the same database
Join employees located in different places in one collaborative team
Give and receive feedback from team members
Expand ideas and suggestions
State personal opinions and areas of disagreement
Support group decision making and knowledge collaboration
Resolve conflict situations remotely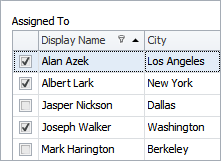 Time Management by Estimate, Actual, Remain and Deviation
Today's world is so fast that people cannot do their job effectively without time management. Managing time means setting the shortest time for each smallest unit of work, so that an individual will complete right tasks within the allocated time period and with no delay. For example, when you need to make 100 phone calls a day, your primary time management goal is to estimate the shortest time you need to make one phone call, then get the overall duration for all phone calls, consider lunch and coffee breaks, and allocate the total required amount of working hours in your daily schedule.
Estimate, Actual, Remain for Tasks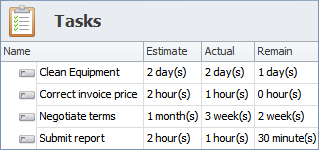 Time management software helps you estimate and allocate your working time. In CentriQS app you can use the Estimate field to set estimated completion time for your tasks. There is also the Actual field in which you can enter actual time spent on doing the tasks. To keep track of how much time remains available, use the Remain field.
Time Deviation and Task Analytics
CentriQS lets you figure out how efficient your time is scheduled, with help of the Deviation field. In case there is a negative time deviation your time management effort tends to be less efficient (your tasks have been delayed or underestimated). And if it is positive then most likely you overestimate the job. Ideally there should be zero deviation for your tasks. The Task Analytics view will help you analyze time deviations and compare Estimate vs Actual vs Remain.

Task Reporting and Charts
Reporting procedure lets decision makers gain clear insight into task performance and understand why an activity is complete or incomplete to date. By generating and visualizing analytical reports in task management software you can keep track of how your teams have worked on in the past week, month, quarter or year.
Task Report Building
CentriQS task management software features analytics views that allow you to report on tasks' data in pivot tables and charts. By means of this powerful report-building functionality you can easily create eye-catching reports that are data-rich and informative. The functionality uses OLAP cubes to generate almost unlimited number of reports that can be printed out and also converted into file formats (XLS, HTML, PDF, etc.) that are familiar to your target audience. For greater convenience and speed at work, CentriQS lets you save your report templates into presets that you can share out to other users to ensure consistency across everyone's reports.
Charts for Task Data Visualization
Advanced charts and diagrams in CentriQS will help you visualize tasks and related data. In the Task Analytics chart view you can set layouts to define how your diagrams will look like and what data to visualize. For example, you can build a chart that compares Estimate time and Actual time and shows cost per task measure.