Oracle is recognized as one of the top leaders in the CRM software market. It offers a database management platform that can be tailored to customer relationship management needs. Oracle CRM on Demand remains a good choice for many businesses, but buyers like options. And guess what? There're some great alternatives to Oracle out there.
Learn how to use CentriQS for
Managing Customers & Sales
Oracle Consulting and Integrators
Oracle has been providing its consulting service for customers for over a decade, and today the company has a robust and well-developed integration model for its solutions. Oracle's in-house consultancy is armed with base deployment plans, which means you pay for both license and consulting. Additionally, the giant has a wide network of third-party implementation partners (called "integrators").
Most organizations that implement Oracle CRM on Demand report that they have a wide experience of working with consultants and integrators. Consultancy is extremely important to successful implementation. Lack of consultants in place breaks Oracle CRM implementation, and most likely you won't be able to integrate the system by using your own IT resources. Besides, what seems to be a common scenario in working with integrators is that you pay consultants a premium for the Oracle brand name and processes. In most cases, consultants are focused almost entirely on the system, while business needs remain a secondary issue. So, if you look for improvement by integrating best practices or implementing a custom approach, you will need to get sufficient help from Oracle professional consulting. Moreover, there is a high risk that consultants will steer your company towards the default model regardless of your specific business needs.
Oracle CRM on Demand, SAP and Alternatives
The fact is that Oracle provides almost the most expensive solution overall in the industry. Implementing a typical Oracle CRM on Demand project will be a minimum of three-times the license cost. Oracle implementation is comparable to SAP CRM. Both corporations control the CRM market, and each one tries to get a CRM sale by reducing prices. Still their discounts remain lower comparing to what other CRM software providers can offer.
CentriQS CRM for Sales Solution
An example of Oracle alternative is CentriQS, which provides CRM and sales enterprise-wide solutions. CentriQS is an on-premise software application to manage business processes within an organization. It's more affordable than SAP or Oracle and provides a powerful customization platform that can meet your business needs. There is a free full-featured version you can download and use to test the program and see how it works within your business environment.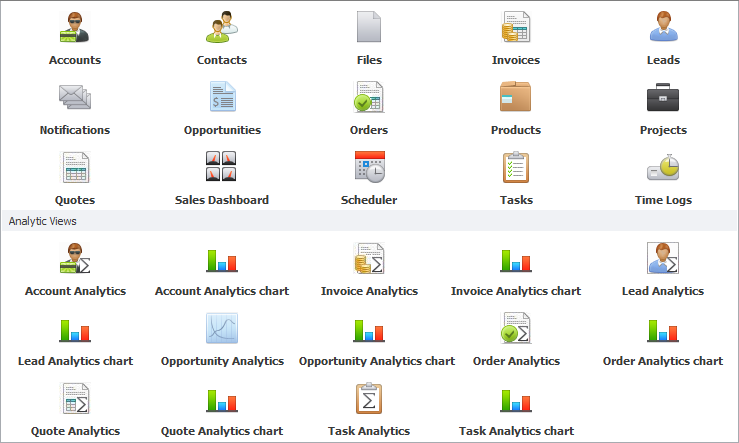 CentriQS is available as an on-premise CRM for Sales database solution, with possibility of further customization. It's best for small companies. CentriQS can be implemented within an organization in the shortest time. The most outstanding features are as follows:
Task management - this default module lets set up collaboration between personnel and help them plan and manage their daily tasks.
Project management - add projects, manage team assignments, build burndown chart and other graphs, receive status notifications, share documents, and more.
Sales Pipeline Management - the full cycle of the sales process is managed with help of CentriQS. Leads, opportunities, contacts, invoices, quotes, accounts, etc.
Analytics - you can create pivot tables and analyze data by various indicators.
Extended report builder - you can create custom reports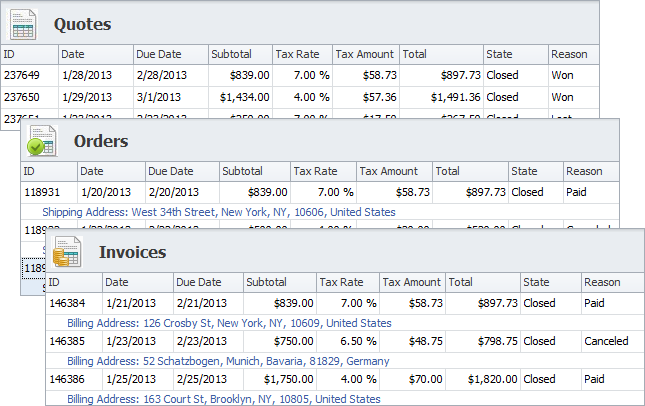 Other alternatives to Oracle and SAP CRM are as follows:
1. MS Dynamics CRM
Since 2011 Microsoft has been representing high competition to Oracle and its alternatives. As MS Dynamics is built on the .Net framework, it is a great choice for companies that already use a Microsoft-based office. The system is convenient for MS users and has an Outlook-like user interface. High customization and short time-to-implement cycle.
2. Salesforce.com
Salesforce.com is known as the leader among cloud-based CRM enterprise-wide solutions. It is fairly intuitive with deep SFA (Sales Force Automation) functionality. Customization is available as well. Business processes, people, technology, inventories, customers etc. - everything you need to manage sales and CRM is in the cloud with salefroce.com.
3. NetSuite OneWorld CRM
This legacy player provides a CRM software solution with scalability in mind. The key idea is that companies are enabled to easily scale this application to meet specific business needs. An unlimited number of users, various modules, built-in apps and storage make OneWorld CRM a good alternative to Oracle.
4. Sage SalesLogix
SalesLogix is Sage's premium CRM offering. It is a comprehensive CRM product with 5 million customers worldwide. There is a mobile application that can be run on feature phones and tablets. It is a great solution for companies where employees need to have instant remote access to sales information, accounts, leads, opportunities, etc.
5. Sugar CRM
SugarCRM is worth a try by companies that look for an extremely tailored solution. It's a popular open source system. SugarCRM has a unique and intuitive wizard that enables users to customize and tailor the system to their needs. New users can quickly get familiar with it - there are a lot of tips, instructions and tutorials to guide a new user through the system.