Even though Microsoft's Dynamics CRM solution is a late entrant to the CRM software market, the corporation has acquired more customers than many other vendors over the last few years. Today Microsoft uses its momentum - by offering Dynamics it tries to alter the market and overcome the competition. MS Dynamics retains a 10% CRM market share, and there is a higher probability for continued increase. Meanwhile, many business organizations remain not loyal to the giant and look for Microsoft Dynamics alternative, such as SalesForce.com, SAP CRM, or CentriQS on-premises software.
Learn how to use CentriQS for
Managing Customers & Sales
Why Businesses May Choose MS Dynamics CRM
No doubt, Microsoft Dynamics CRM is a popular choice among MS Office users. Exactly this fact makes many businesses choose this product. People who got accustomed to Outlook, Excel and other Office applications are likely to choose Microsoft Dynamics for its native interface, quick deployment and flexibility in use. Companies benefit from the shortest learning curve (comparing to Oracle CRM on Demands, SAP CRM, or similar Microsoft Dynamics alternative), better user experience, and cost-effectiveness.
In general, MS Dynamics can offer businesses the following key advantages:
Choice: users are enabled to choose between on-demand and on-premise solutions
Value:  the price of MS Dynamics plus the costs of its operation are lower, comparing to many alternative solutions
Productivity: businesses are enabled to seamlessly integrate the application with other commonly used, Windows-native programs
Partner ecosystem: an opportunity for technology companies to build a successful business around MS Dynamics
If you look at these advantages, you may see that Microsoft employs a flexible technology approach that can meet the needs of both business and IT consulting. It seems that the corporation tries to overcome the completion by providing customers scalability in CRM.
MS Dynamics CRM Weaknesses
However, MS Dynamics is not a perfect solution. Many businesses don't like it and often switch to alternatives. Here're several disadvantages that make Dynamics excluded from CRM shortlists:
Customers seeking for balance between CRM and Sales Force Automation (SFA) may require third-party solutions, system integrations and extensive customization to accommodate functionality missing in Microsoft's application.
Dynamics doesn't keep pace with marketing and customer support requirements. The weak side is that users are provided with weak marketing and customer support functions, even though the solution is being improved by the day. Fortunately, many CRM providers (excluding Oracle and several other Microsoft Dynamics alternatives) deal with the same issue.
Customers desiring to use Exchange for managing their Outlook tasks, emails and contacts have to deal with third-party partner solutions in order to sync with the CRM solution.
Microsoft Dynamics doesn't provide sandbox environments for testing or QA.
Microsoft Dynamics Alternative Solutions
It's been observed and reported by Gartner that businesses having weak IT resources or preferring to outsource more often choose Microsoft Dynamics alternatives such as SalesForce.com, CentriQS or Oracle, while companies with more IT resources tend to go with Dynamics CRM. Besides, customers are best advised to consider alternative CRM applications when:
Seeking industry-specific CRM solutions or ones that can easily and quickly customized to special needs
Searching for the lowest total cost of ownership (TCO) for CRM software
IT departments standardize on Microsoft technologies (ex.: SQL Server, .Net Framework) yet they look for more cost-effective solutions similar to Dynamics CRM by functionality, for example CentriQS.

Replace MS Dynamics with On-Premises Software
There's no doubt, it's hard to compete with MS Dynamics CRM and offer businesses something worthy. Nevertheless, we did it. By developing CentriQS we created a solution that could fit your CRM needs and help you manage the full cycle of sales in your company. CentriQS offers an on-premises software solution to manage everything your executives and sales personnel deal with - from leads, opportunities and tasks to sales campaigns, customer accounts and analytics.
Easy and Affordable Customization
MS Dynamics provides powerful customization capabilities. You can modify data objects, entity relationships, navigation, workflow processes, and more, as well as create new objects which are not limited to traditional CRM objects. However, the bad side is that it's complicated enough. If your organization has Microsoft technical skills in house, Dynamics customization shouldn't be a trouble for you. If not, you may need to weigh sophistication with available IT resources in order to find the right balance for your custom CRM solution.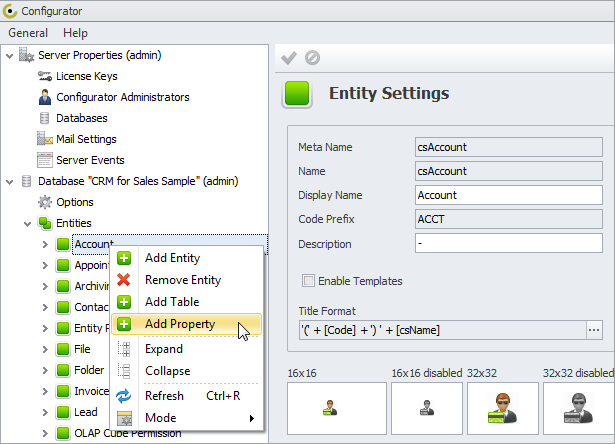 CentriQS follows the same idea about customization but simplifies its implementation. By using Configurator you can customize CentriQS database to create new entities, add custom properties, set workflows, manage OLAP Cube data, change view layouts, and more. The greatest benefit of CentriQS customization is that the software offers an ease of mind solution you can tailor to your specific business needs, without coding or special IT knowledge.
Begin to Manage Customer Relationships Right Away
CentriQS provides a default database "CRM for Sales" which lets you begin to manage customer relationships right away. The database is customized to sales management needs. You can manage such CRM essentials as accounts, leads, contacts, opportunities, projects, orders, and more. Your sales personnel can manage their tasks, view shared projects, upload files, link to entities within the database or to external web pages and emails. With help of CentriQS you can establish sales workflow, keep track of each step, and visualize your sales pipeline by using Funnel chart.