IT inventory software provides maximum visibility and control over the purchasing, deployment, usage and decommission data related to your company's IT assets. It lets you seamlessly track and manage your software and hardware assets through inventory accounting, procurement management, and database administration.
Why IT Inventory Solutions are Required
How often in past did you try to find out on what computer particular hardware or software was installed and when to replace or upgrade it? How much time and effort did you spend on your trials? Or maybe you even failed with counting and valuing your IT inventories because you had never used a software solution for tracking IT assets and creating a detailed hardware/software inventory report for each PC in your company? Actually, any firm will face the same troubles unless it finds a solution that can help handle inventory tasks to collect and store inventory information in one database.
Obviously, the idea behind using an IT inventory solution is that such a solution allows you to count and value each IT asset in your business, keep and update the data in one place, and create detailed reports. Then in your database you will keep record on each computer and all software and hardware components installed on this computer. Other equipment and machines (such as faxes, telephones, copiers, printers, network devices etc.) will be also accounted and recorded in the database. All the information on your company's IT infrastructure will help you plan hardware upgrades, purchase software licenses, prepare IT audit reports, schedule network maintenance tasks, and optimize overall asset management as well. You will be able to extract detailed information about every hardware/software component, including specification, vendor, serial number, license count, location etc.
Part of a Larger System for Managing Company Information
When you use an IT inventory management app you always have up-to-date information on your software/hardware. Your application enables you to plan upgrades more accurately and minimize upgrade costs. But what if you could use a larger enterprise-wide system with the functionality of your current inventory management program and also featured more options for overall management of your business data? What if such a system would provide you with complete information on your company's processes, including sales, HR, inventory management, job scheduling, accounting, and so on? Then perhaps you would use that system to manage all information flows in your firm, and your database would be at the hub of your business activity. For example, you can try CentriQS.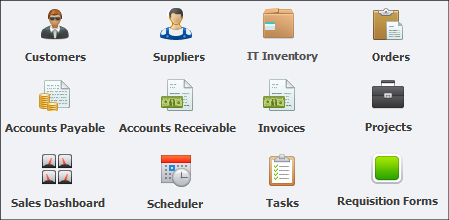 Software and Hardware Accounting
Accounting of IT inventories makes it possible for an organization to deal with changes in inventoried software and hardware items. It is a process that comprises two basic steps:
Counting - performing a physical inventory count at the end of a reporting period (e.g. month or quarter) to determine the exact number of inventories available
Valuing - understanding the accurate value of each inventory item to limit the potential of overstating a company's profit
IT inventory software lets carry out both steps to ensure exact counting and accurate valuing of software/hardware items. It helps your business register new items, account depreciated items and track inventory obsolescence. All records on your IT assets can be stored and managed in one database, and you can retrieve and update any record in the database with ease.
IT Procurement Management
Managing IT procurement and logistic strategies allows your company to seamlessly function within the business environment because this process ensures that your technology infrastructure gets constant upgrades to the systems, including network, server, storage, desktop, mobile devices, etc. IT procurement management lets you better organize and control your inventory supply, transportation, warehouse logistics, IT staging, configuration services, etc.
Effective procurement management service helps you identify and address the needs of your technology infrastructure. It facilitates software and hardware selection, order management, system integration, delivery, rollouts, etc. Your procurement personnel can access all information on current and future deliveries, purchase orders, costs and accounting to plan and keep track of your company's computer assets.
IT Inventory Software Database Customization
As every piece of information on your IT inventories is kept and managed in one database, apparently you need to have a solution that could help you administer and configure the database according to your business needs. Purchase orders, vendor profiles, client base, inventory supply, system configuration and other records can be organized in your database to make it easier for your personnel to account and manage computer technology assets. And this data needs to be organized and managed with help of powerful database customization and configuration capabilities.
CentriQS offers you the database administration solution to let you customize and configure your IT inventories database in line with your needs. This solution enables you to create custom entities and set their properties, workflows and tables.

For example, in CentriQS Configurator you can access your database and for the custom entity "Inventories" create the properties "Availability", "Count", "Value", "Location", "Vendor". This customization will create the Inventories view in your database. For each item in the Inventories view you can specify whether it is available and in what quantity, what value it has, where it is located, what vendor procures it.