Customization is the greatest way to create a solution and tailor it to specific needs. For business, customization lets organizations design and use solutions that ensure business growth and development through tailored processes and workflows. In particular, custom business software allows your company to create a digital repository that contains any piece of information you want and that is configured and set according to your specific business needs. Such software enables you to achieve harmonization in managing your company activities and objectives.
Focus on Complete Business Customization
While customization makes it possible for organizations to enjoy harmonized environments, for many companies selecting a custom business software solution appears to be challenging. The challenge is that those companies cannot get focused on multiple points at once. Instead, they try to focus on a single point, which can be production growth, customer satisfaction, quality improvement, and others. As a result, they look for a custom business solution that solves only one business problem while the rest problems remain unaddressed.
This single-point approach is ineffective and should be avoided. As a good manager, you need to focus on multiple choices and find a complete solution that could help you understand and handle all problems your business encounters. For example, CentriQS gives you a 360-degree view of your company's activities. CentriQS custom business software solution lets you retain, manage and update all information in a single database. Every business activity - from staffing, budgeting and administration to sales analysis, business development and project management - can be recorded in your database and then retrieved when necessary. CentriQS offers multiple choices in complete business customization, so this solution makes it possible for you to customize and configure your database according to your specific business demands.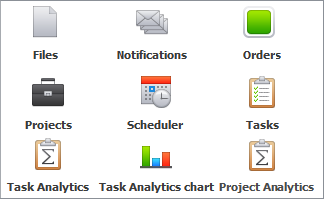 Create and Configure Custom Databases in Minutes
Everything in business is measured against time because time is money. Companies always look for solutions that maximize their efficiency at less time consumed. The less time you spend on doing a business activity the greater benefit your company gains. That's why, you will definitely prefer a custom business software solution that lets you create and configure your database in a few minutes, without requiring any special knowledge or experience in programming.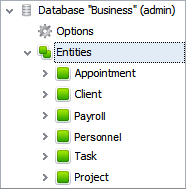 In CentriQS Configurator you can create and configure custom databases according to your company's strategic needs. Custom entities will be the "bricks" that ensure deep customization of your database. You can use custom entities to model business objects, set business workflows, create spreadsheets, and manipulate enumerated business data. The entire customization process won't take much time - everything in CentriQS Configurator is organized well and user-friendly, and you can use a tree-like hierarchy of custom entities and their properties to switch between items and create new ones.
Manage Custom Data with Ease
Effective business management based on data customization requires an administrative process by which necessary information is acquired, retained, protected and retrieved with ease and when required. Such a process lets manage custom data the way that enables accessibility, reliability and timeliness, so that users can be satisfied with the quality and availability of information they receive. It will ensure data protection through backup and restore procedures, maximize user productivity, and allow people to remain connected to their files and documents.
By means of CentriQS program you can access your customized database locally and remotely to manage business data and keep track of changes. As a manager, you can receive email notifications of updates made to your database. Also you can use the dashboards capability to display selected business data in one screen. Other users can access the database with their CentriQS accounts (Windows Active Directory accounts are allowed as well!); meanwhile only users that have enough permission will be able to change and update records in the database. In addition, CentriQS ensures custom data protection and reliability by allowing you to make automatic and manual database backups.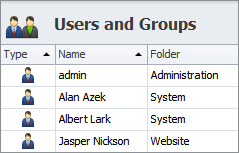 Enjoy Business Analytics and Advanced Reporting
The effectiveness of an organization's operations and tasks can be evaluated and reported with help of business analytics. By using advanced analytical reports on the major aspects of your business (revenues, clients, risks, personnel, suppliers, competitors, etc.) you can understand what you made wrong in past, what performance levels your company currently achieves, and what improvement opportunities are open to the business. Advanced reporting enables you to make better decisions based on the analysis of business opportunities and performance measures.
CentriQS custom business application lets you create custom reports on your business data by means of analytics views. Your reports can be made as pivot tables in which rows and columns are set and filled by you. For example, you can create a sales report that shows how much revenue was received last month, what customers made purchase, and what sales reps were involved in the sales process. Your report can be presented as a diagram, printed out or converted into popular file formats, such as XLS, PDF, HTML, and others.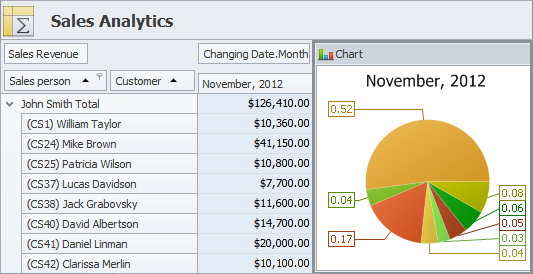 Request Client Support for Better Business Customization
One more option in making your business optimized and tailored to your needs is to request client support from developers that provide custom business software solutions. It is a great way to get qualified assistance and advice right away and for free. For instance, VIP Quality Software, the developer of CentriQS, provides helpful advice and guidelines on how to develop and configure databases, what options are best to include in database design, how to deploy the software in business environments, etc. The company also keeps and updates the Knowledge Base that provides CentriQS best practices and how-to guides. So if you use CentriQS but have some trouble in business customization, you can email to the support team or talk to one of the operators in the live chat.