Microsoft Access template offers a complete end-to-end database management application. It is used as a starting point for building and customizing databases, including tables, forms, macros, relationships, reports, etc. The benefit is that you can save time and start using a sample MS Access database right away. The bad side is that the customization capabilities of the program are oriented towards developers rather than end-users, so if you do not have dedicated knowledge in VBA programming you are likely to face some trouble.
Decide on Business Need for Access Templates
A good decision involves a careful process of investigating available options and selecting a logical choice that best addresses the decision maker's need. When you decide on whether to start using Microsoft Access templates for managing your business data, you should define the need for those templates and identify the benefits your business will gain. Your decision is very critical, because it may happen that you don't really need Access templates, but you can use an alternative solution for data management and customization.
Templates Benefits
To define your business need for Access sample databases, first think about the final destination point you want to reach by managing your information. For example, you want to efficiently manage your customers' data, so your destination point is that a client database is created to retain, update and retrieve customer records, profiles and contacts. With help of Access templates you can design such a database, and the benefits your business will gain are as follows:
Your template is reusable, so the database can be used on diverse computers
It is customizable, so if you have in-depth knowledge and expertise in Microsoft Access customization, you can try to make your database best tailored to your business needs
It is not language specific, which means you and other users can follow the same style and algorithms to manage the database
Final Decision
It should be noted that the listed three benefits can be derived from almost any data management system that supports database templates and sample designs. MS Access is just one of those systems, while there are other desktop and web-based solutions (e.g. Oracle, Kexi, FileMaker Pro, CentriQS) that can fit your needs. So how to make the right decision?
Once again, the right decision depends on your needs and the situation your business is in. Consider the following questions below, and if most of your answers are positive, then you decide to start using Microsoft Access database templates.
Is it true that even realizing the disadvantages of MS Access (database size not greater than 2GB, troubles with simultaneous user access, reduced database performance) you still decide on this solution?
Did you research Access competitors and find no worthy alternative?
Is there anybody in your company who has ever tried or currently uses MS Access?
Are you ready to invest much time and effort in Access database customization?
Do you have competent IT specialists in your company who can maintain your Access template database?
Use the Library of Access Templates
When you begin to work with MS Access, templates help you avoid routine tasks relating to database design. You don't have to build your database from scratch but just use available tables, forms, reports, macros, and relationships of your template to start using the database. All of your sample databases can be run on SharePoint server.
Each Microsoft Access template is intended to meet specific data management needs. Your task is to find, select and download the right template that meets your demands. MS Office websites offer the largest online library of Access templates designed to address almost any need in business. Inventory accounting, client base, order processing, project management, activity scheduling, supply chain management, and other sample databases are available for free downloading and use without any registration. You can really enjoy the library of free databases that meet your business needs.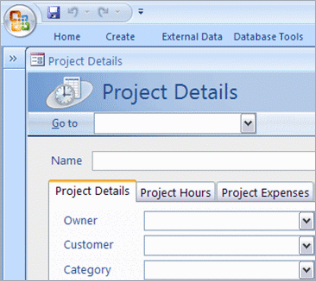 Invest Much in Access Database Customization
The leading corporation always provides complete end-to-end solutions to let users get what they really want to. And that's why customization is one of the must-have capabilities in the MS Office package. Access is designed according to this idea. Users are enabled to customize and configure template databases in line with their specific needs.
Although Microsoft Access templates provide sample database structures ready for use, there is a prevalent belief that the customization capabilities of the software are oriented towards developers and programmers rather than end-users. And even Microsoft tries to simplify UI and provide user-friendly tools for database customization, the latest edition of MS Access still remains inconvenient for end-users to a great extent. Only VBA programmers can customize databases. In this regard, you should consider investing much in customizing your Microsoft Access templates if you are not competent in programming and database development.
Enjoy Easy Customization in CentriQS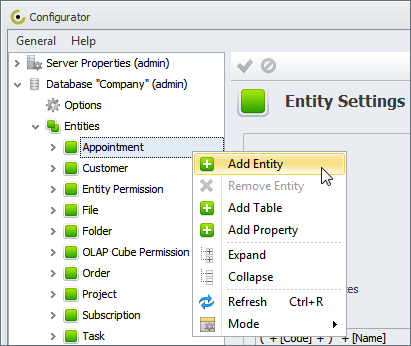 CentriQS offers database management solutions for small business. When you create a new database in CentriQS, the database will include default or template entities that help you manage tasks, projects, documents, schedules, users, alerts, etc. You don't have to create a database from scratch but you can use default entities to start managing your business efficiently.
If you need to customize CentriQS database to better fit your needs, you can create custom entities and set their properties, workflows and tables. Database customization in CentriQS is easy and does not require any special knowledge in programming. Nice UI and navigation tools will help you tailor your database, add new entities, and set entity relationships.
Keep All Business Data in One Database
CentriQS is great for managing almost any business object. In your database you can create your business objects, customize them, and set properties that characterize the objects. For example, you can create such objects as Customer, Order, Product, Request, Supplier, Risk, Invoice, and more. The business data will be kept in one database, making it possible for your personnel to use CentriQS as the main tool to plan, track and report on business activities.